We literally wrote the book on Buyer Enablement, and it's already an Amazon Best Seller!
Over seven years in the making, Selling Is Hard, Buying Is Harder by Garin Hess is the definitive work on the Buyer Enablement strategy. Which makes sense, since Garin coined the term during the early startup days of Consensus over seven years ago.
Like most noteworthy leaps forward, this book, and Buyer Enablement in general, were born out of intense pain – in this case, the pain involved in buying and selling B2B software. No matter what we like to tell ourselves with our nice, linear maps of our sales processes and buyer's journey, the actual process of buying software for a large organization is usually recursive and utterly heinous.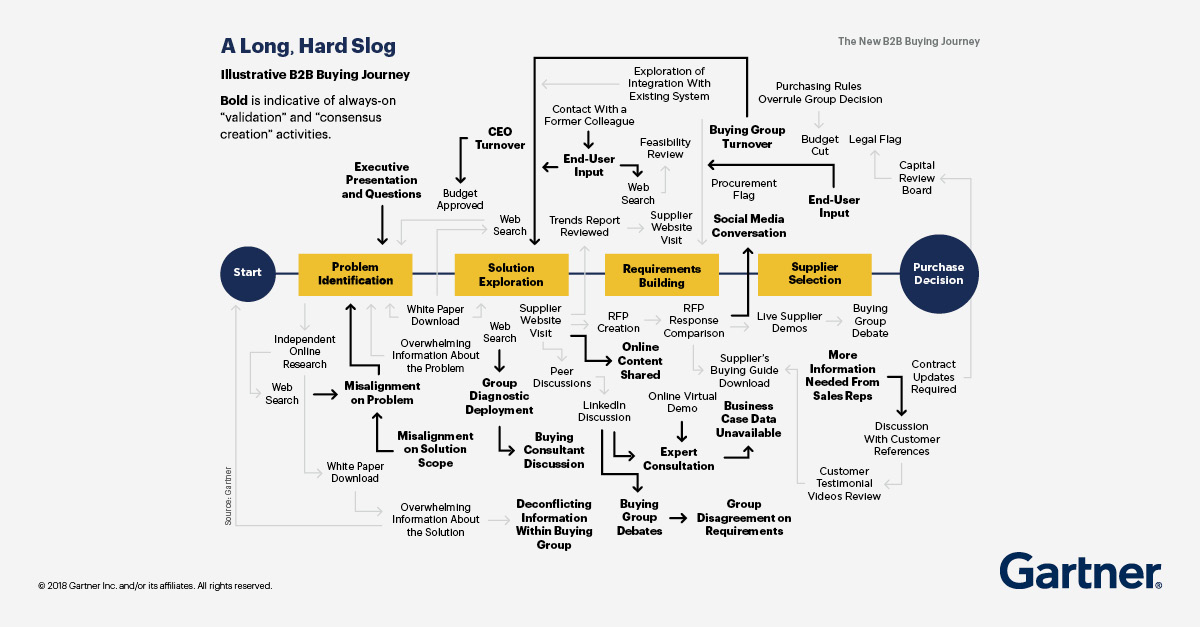 And one of the major obstacles a buyer must navigate in this labyrinth is group buying dysfunction. You know the story if you've ever tried to get a large group to decide on where to eat.
Selling Is Hard. Buying Is Harder. is a complete reversal of traditional sales focus, with buyers in charge of selling and sellers in charge of buying, sales enablement bowing to champion enablement, buying groups systematically managed, and technology empowering it all.
But how effective is it, really?
"With his technology-supported buyer enablement approach, Garin has elegantly figured out how to flip the buyer and seller paradigm. The approach not only empowers his customer champion to do the complex internal sale for him, but it also creates more personalized, true win-win, lasting business solutions. The approach allows presales people to happily say yes to one of their historically most hated requests–give me your standard demo. Now presales people can deliver their standard demo without investing time and get automated discovery and qualification delivered for free. This will certainly enhance the often troubled relationship between sales and presales."
—Kevin O'Brien, Global VP Presales and Virtual Experience at SAP
"Today, more than ever, we live in a world of information overload. Helping buyers make sense of all the information is key to building confidence. What our research shows, is that the best go-to-market sales strategies focus more on helping buyers buy and not just helping sellers sell. Garin Hess captures the essence of modern buyer enablement with actionable, evidence-based advice that put the customer's problem, not your product, at the heart of your sales strategy."
—Alastair Woolcock, Gartner Research & Advisory
"As a personal comment, I have (rather dramatically) changed and improved my practices as a result of reading this terrific book. Applying the concepts are already paying off with reduced cycle times and improved customer relationships. Highly recommended!"
—Peter E. Cohan, author of the Great Demo! methodology
You can also get access to the companion downloads referenced in the book by visiting buyereneablement.io.